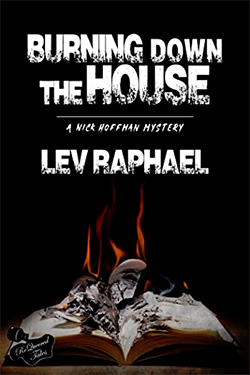 Nick Hoffmann Mystery #5
Nick Hoffman's State University of Michigan is a place where the Borgias and the Marx Brothers would be equally at home. Heading into the Christmas season, SUM is being torn apart by bizarre attempts to make it more diverse while an autocratic new provost pushes for a White Studies program and Nick faces not only a tenure battle but conflicting requests for support in a battle for department chair.
As if it weren't enough that his professional life is a mix of seasonal chaos and departmental warfare, Nick's personal life also takes a turn: He discovers that he's attracted to the outrageously sexy Juno Dromgoole and disturbed by these disorienting new feelings in his life. He also finds himself the target, along with Juno, of a vicious harassment campaign that escalates into stalking, assault, and attempted murder. There's certainly no shortage of suspects, only of solid clues. The decisions Nick faces may change his life forever... if he survives.
"Lev Raphael's lacerating wit fillets the fatted calves of academia, roasts them with the hot breath of satire, then serves them up in the sauciest of mysteries."
—Val McDermid, author of A Place of Execution
"As ever, Lev Raphael is witty, biting and on the nail when it comes to the groves and gripes of academe."
—Ian Rankin, author of Dead Souls
Buy Burning Down the House for Kindle
Return to main page | Return to Mysteries page
© Lev Raphael.