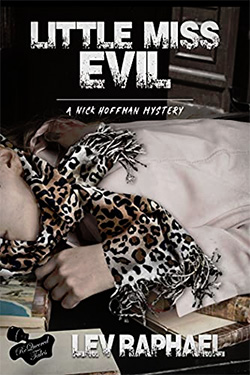 Nick Hoffmann Mystery #4
The fourth novel in the highly acclaimed series by Lev Raphael begins on a high note. It appears that Nick's career is finally moving in the right direction, and the celebrity that comes with solving murders has brought him more students than he can possibly handle. But things are never calm at the State University of Michigan: Nick's partner's career seems to be taking a downturn, a new faculty member is causing a lot of nasty talk, and cryptic messages are showing up in Nick's mailbox. What turns up next is a corpse—and some very unsettling thoughts for the reluctant sleuth.
"It's been said that academic politics are so vicious because the stakes are so small. Lev Raphael's satiric eye and the ironic voice of his refined but supremely sensible protagonist, Nick Hoffman, illuminate this exotic world for those of us on the outside. No one understands or conveys the comic reality—and murderous potential—of the trivial and tremendous pressures of campus life as well as Lev Raphael."
—S.J. Rozan, author of Stone Quarry
"Welcome to the State University of Michigan, where back-stabbing is a college sport, rumor-mongering is a core course, and murderous envy is campus king. SUM's fractured faculty inspire more laughs than a night of Seinfeld reruns. But what makes Little Miss Evil especially delightful is Lev Raphael's narrative voice: literate, sensitive, wise—and unabashedly sexy."
—Martha C. Lawrence, author of Pisces Rising
"Nick Hoffman is back, relegated to the basement of his college so he won't get into trouble. But when someone torches his mailbox, Nick gets the hint that an arsonist is carrying a flame for him. As ever, Lev Raphael is witty, biting and on the nail when it comes to the groves and gripes of academe, majoring in mayhem and murder along the way."
—Ian Rankin, author of Dead Souls
Buy Little Miss Evil for Kindle or in paperback
Return to main page | Return to Mysteries page
© Lev Raphael.