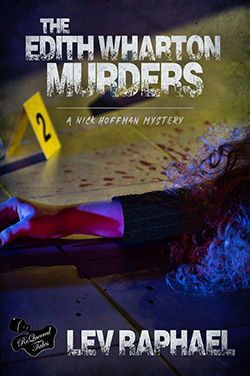 Nick Hoffmann Mystery #2
Nick Hoffman, desperate to get tenure, has been saddled with a thankless task: coordinating a conference on Edith Wharton that will demonstrate how his department and his university supports women's issues. There's been widespread criticism that SUM is really the State University of Men. Problem is, he's forced to invite two warring Wharton societies, and the conflict between rival scholars escalates from mudslinging to murder. Nick's job and whole career are on the line unless he can help solve the case and salvage the conference.
"Is vulgar literary taste sufficient motive for murder? Actually, killing is too kind for the vindictive scholars in Lev Raphael's maliciously funny campus mystery The Edith Wharton Murders."
—Marilyn Stasio, The New York Times Book Review [Read the full review]
"Another fast, funny, delicious mystery by Lev Raphael. Kept me guessing—and laughing—right to the end."
—Sparkle Hayter, author of Revenge of the Cootie Girls
"A savagely funny satire of academic pretensions and posturings. Definitely on my list of the year's best!"
—Dean James, former manager of Murder by the Book and co-author of By a Woman's Hand
Buy The Edith Wharton Murders for Kindle or in paperback
Return to main page | Return to Mysteries page
© Lev Raphael.