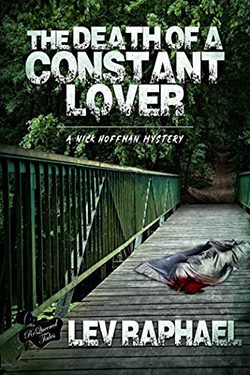 Nick Hoffmann Mystery #3
Mayhem at the State University of Michigan: Is it murder...or another faculty meeting?
Filled with caustic humor about university life and written with literate style and grace, The Death of a Constant Lover escalates Nick Hoffman's involvement with mayhem and faculty meetings. When the son of a professor is murdered on a campus bridge, Nick's presence at the scene puts him right where he can't afford to be: in the middle of trouble. With his tenure review coming up, he's been warned by his department chair to avoid bad publicity.
But Nick is forced to wade in deeper anyway, inexorably drawn into yet another risky investigation in the surprisingly cutthroat world of academia. He may be surrounded by academics with deadly agendas, but he's armed with the hope that his wit and insight will be enough to avert the death of his career... and maybe his own as well.
"Lev Raphael sets his campus mysteries at a factory-like state university in fictitious Michiganapolis, Mich., and populates them with the kind of stupid students and pretentious faculty members who blacken the eye of academia. Happily, he also gives his narrator, a lowly English professor named Nick Hoffman, license to mow down these intellectual pretenders with his scathing wit."
—New York Times Book Review
"Nick's smart-alecky sensibility wedded to his evident love of literature gives this novel its deliciously wicked appeal."
—Washington Post Book World
"...offers some of the most pointed and funny put-downs of academics in my memory [and] shows the kind of growth in characters that you'd expect from someone as smart as Raphael."
—Detroit Free Press
"Read it for its witty and devastating backstage view of college life that, sadly, is probably more truth than fiction."
—San Diego Union-Tribune
Buy The Death of a Constant Lover for Kindle or in paperback
Return to main page | Return to Mysteries page
© Lev Raphael.