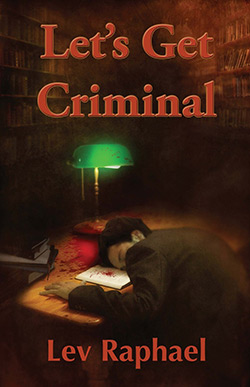 Nick Hoffmann Mystery #1
Curiosity turns to obsession at the State University of Michigan. Professor Nick Hoffman can't understand how his supercilious new office mate Perry Cross beat out other candidates for the brand new position in Canadian Studies. How did Cross get hired when he's under-qualified? Just as troubling, Nick discovers that Cross's past intersects with his own in disturbing ways. When Cross is found dead and the verdict is murder, Nick becomes a prime suspect since he was one of the last people to see Cross the evening he was killed. Nick has no choice but to investigate on his own.
"A delightful take on death in the halls of academia."
—The Boston Globe
"Lev Raphael delivers literate, witty, suspenseful goods."
—Publishers Weekly
"Well-drawn characters make a delicious list of suspects and victims."
—Faye Kellerman, author of Justice
Buy Let's Get Criminal for Kindle
Return to main page | Return to Mysteries page
© Lev Raphael.